NEWS
View by:
09.08.2016 - SAVE THE DATE - Friday October 14th!
Babes4Breasts is celebrating it's 10th ANNUAL SHOW this year! That's right...we've been putting on concerts and raising money (with the help of numerous artists and people across the country) for a variety of breast cancer charities! Starting next week we will slowly announce the TEN ARTISTS on the bill this year! #b4b2016
---
12.16.2015 - THANK YOU OTTAWA!
THANK YOU
to
Babes4Breasts
and All Donors!

$17,235

Raised by the Babes4Breasts 9th Annual Benefit Concert, CD sales, online silent auction and The Royal Oak and Beau's Brewery campaigns.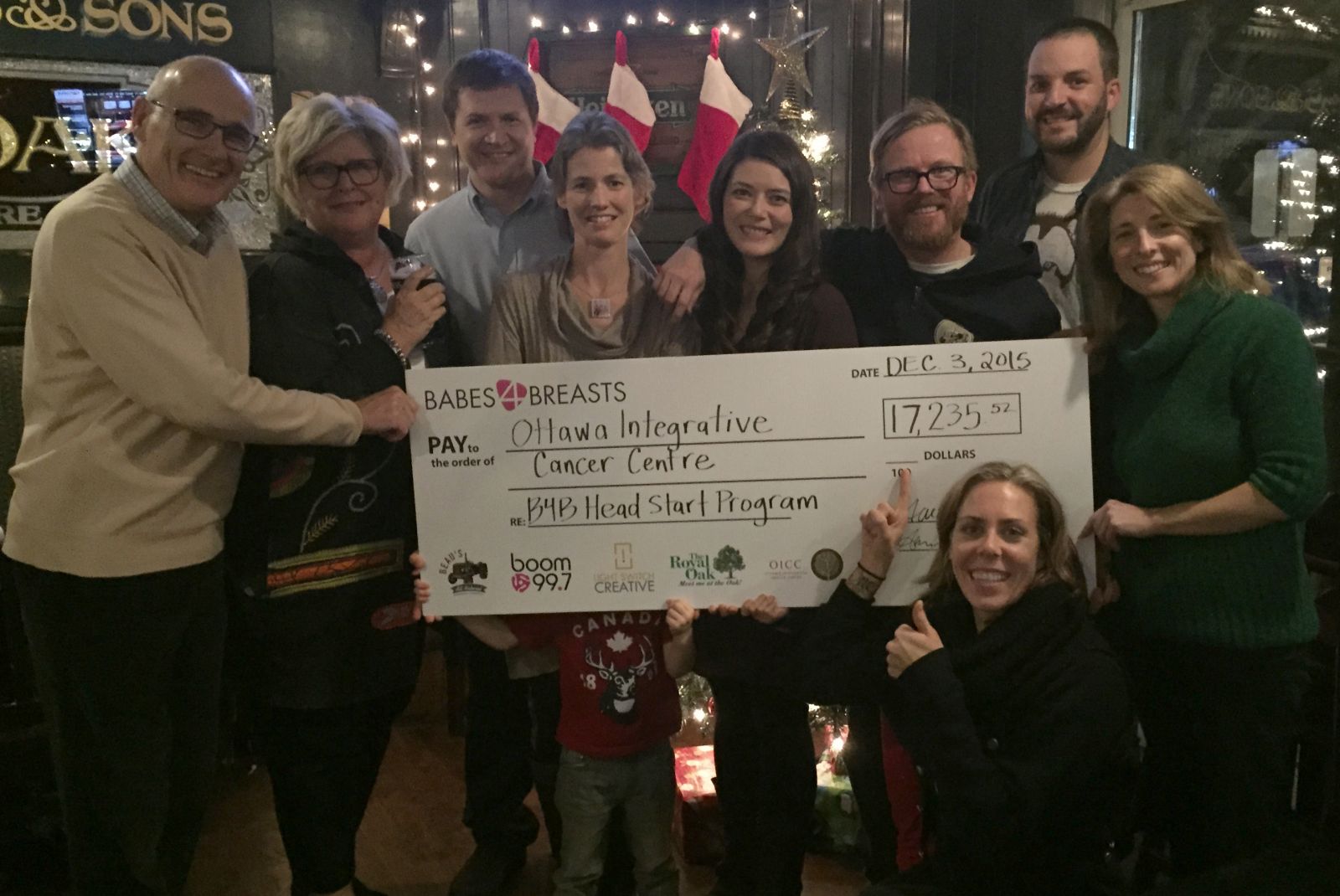 Jonathan Hatchell (CEO, Royal Oak Pubs), Louise Dixon (Senior Account Manager, Boom 99.7 FM), Dugald Seely (Executive Director, OICC), Sarah Young (Programs and Outreach, OICC), Ana Miura (Founder, Babes4Breasts), Chris Sheppard (Beau's All Natural Brewery), Dave Fenton (Beau's All Natural Brewery), Amanda Rheaume (Co-Chair Babes4Breasts), and Heidi Vincent (Marketing, Communications & Public Relations, OICC).
---
10.13.2015 - Women with Breast Cancer Find Hope in Babes4Breasts Head Start Program at Ottawa Integrative Cancer Centre
News Release
Women with Breast Cancer Find Hope in Babes4Breasts Head Start
Program at Ottawa Integrative Cancer Centre
Babes4Breasts Annual Benefit Concert on October 24th to Fund Head Start
Ottawa, ON, October 13, 2015: Babes4Breasts (B4B) announced today that on October 24th, some of Canada's top folk and roots musicians will once again grace the stage to raise funds for the Ottawa Integrative Cancer Centre (OICC).
"We are proud funders of the OICC," said Ana Miura, Babes4Breasts Founder. "They are helping people achieve better health outcomes while facing the biggest challenge of their lifetime."
Last year, B4B raised $20,000 to fund the launch of a new program at the OICC for women newly diagnosed with breast cancer. The B4B Head Start Program gives hope to women during their greatest time of need. When faced with a devastating diagnosis, the Head Start Program enables participants to feel less alone and confused, and better prepared for what lies ahead. Women have less stress and anxiety, and feel empowered, at a time when everything seems out of their control. In this way, Head Start gives women hope, launching them on a journey towards healing.
"The Head Start Program was a lifeline for me during the early days of my breast cancer diagnosis and continues to provide me with much needed support," said Christine, Head Start participant.
Watch this video to hear more from Babes4Breasts Founder Ana Miura, and Head Start participant Claire McCaughey.
Babes4Breasts 9th Annual Benefit Concert Features Juno Award & CFMA Nominated Amanda Rheaume, Jeremy Fisher, Sarah MacDougall, Ana Miura, and Breast Cancer Survivor Oh Susanna
Presented in a songwriter circle, this year's performance features an incredible roster of musicians on Saturday, October 24th at St. Alban's church, doors open at 7:30 pm doors; 8:00 pm start. Tickets are $25 in advance, or $30 at the door. This will be a spectacular, authentic and intimate evening of music for all to enjoy. Tickets are available online and through select local stores.

At the concert B4B will be releasing their fifth compilation album featuring donated music from established and rising stars from across Canada including: The Once, Danny Michel, Fortunate Ones, Gerry Wall, Amanda Rheaume and more. Albums will be available in all Bridgehead Coffee Houses across Ottawa (limited time only) as well as Compact Music and the Odds & Sods Shoppe.
The popular annual "Beau's 4 Babes4Breasts" at The Royal Oak will kick off the lead-up community campaign to the concert on Tuesday, October 20th from 5:00 to 7:00pm in the Royal Oak on Wellington Street in Hintonburg, featuring free samples, live music and snacks. The Royal Oak will be donating $0.25 from each pint and $0.75 from each pitcher of Beau's, as well as $1 from the sale of the "Babes Burger" to the cause. Beau's Brewery will be providing an additional 30% of keg sales for all Royal Oak locations during the two week campaign. Bottoms-up with "Beau's 4 Babes4Breasts" at the Royal Oak!
An online silent auction is also being held for the entire month of October to raise funds for the Head Start Program. Please visit www.oicc.ca/auction
About Babes4Breasts Head Start Program
The Head Start Program run by the OICC empowers women to be their best advocates, as they learn about the role of nutrition, natural health products, exercise, mind body techniques, stress management, and lifestyle modifications. Improved quality of life, reduced side effects, anxiety and depression, increased stamina, and better overall health outcomes are explored through weekly workshops with OICC therapists. Participation in the Program is 100% subsidized with Babes4Breasts funding. www.oicc.ca/headstart
About Babes4Breasts

Babes4Breasts (B4B) is a group of like-minded Canadian recording artists who have come together to fight breast cancer through music. Our mission is to use the power of music to raise funds and awareness for breast cancer prevention, education, and support via conventional and integrative strategies, by way of a community-based approach. Since 2007, B4B has donated over $125,000 to a variety of breast cancer related charities. www.babes4breasts.com

About the Ottawa Integrative Cancer Centre

The OICC is the first integrative cancer care and research centre in Central and Eastern Canada. As a not-for-profit, regional centre of the Canadian College of Naturopathic Medicine, the OICC welcomes patients at any cancer stage as well as those wishing to prevent cancer or its recurrence. The Centre works with patients and physicians, to provide therapeutic programs that decrease side effects and promote health and improve quality of life during and after conventional treatment. Through clinical practice, research and education, the OICC strives to assess and reduce possible causes of cancer while exploring innovative integrative treatment approaches. www.oicc.ca
For more information:

Ana Miura
Babes4Breasts
Founder, Boss Babe
ana@babes4breasts.com
613 864 0516
---